Make Your Solo Trip Memorable with These Useful Hacks
First solo trip is often described as a religious experience. A completely new surrounding with new people and culture that is untouched by the dirt of preferences, prejudices, and judgment is often what our soul needs. Solo traveling is all about enjoying yourself completely and indulging in life's unfiltered opportunities.
However, every coin has two sides and on one hand, if traveling solo is divine, then on the other hand, it has its perils too. There's loneliness, the feeling of dread, and of course, safety concerns. So, to make the most of your solo travelling, remember a few hacks and you will rock this solo trip and every single of them that follows.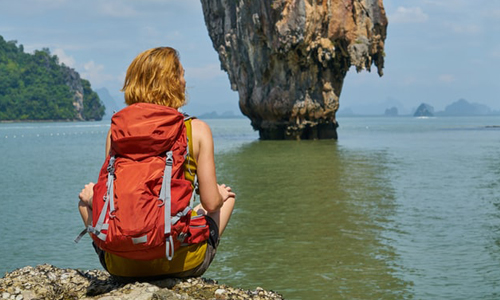 Leave An Itinerary
Before you start your trip, leave a schedule of your visit at home to friends and family. Your itinerary will help your family and friends to keep a track of your visit when you are away from home and ensure that you are safe. Also, you must stay in touch with them via text, chat, video call, and email.
Enjoy Your Own Company
When you are solo travelling, you will spend most of the time with yourself – accept this fact. Spending time well can be daunting as it is only you, but you got to embrace it and enjoy the company. Soon, you will feel addicted to spending alone time yourself, exploring the city around you, and meeting local people, or trying local cuisines.
Carry Enough Cash
Not having enough cash can pose a serious problem especially if you are travelling solo. Asking money from strangers or sleeping on a park bench is an absolute no-no when you are travelling alone. When there is no one to watch your back, it is always a good idea to keep some extra cash under the sole of your shoe or sliding inside the loop of your belt always comes in handy in time of emergencies.
Learn to Say No
You will be amazed to see the attention a solo traveller gets especially in a place which is fascinating foreign cultures. So, saying no in time of need is required. Learn to say "no, thank you" in the local language and also "absolutely not". In addition to this, it is also good to know local and non-verbal gestures for "no", which is often most effective than the previous two. Other than this, you must also keep local emergency numbers handy like hospitals or police stations. You might not need them, but knowing that you have them will give you the confidence to deal with any weird or awkward situations.
Connect With the Locals
The best way to do so is to try a homestay or room rentals in an apartment. Many places that experience a flock of tourists all year round have such places which make solo travelling easy and fun. Also, it is an ideal way to get in touch with the residents of the place. Even if the landlord is not showing you around the town, you can always get some useful tips to make the most of your stay.
Follow Safety Protocol
Solo travelling is safe but it is good to be mindful of your safety in an unknown place. It is ideal to stay attentive in big cities at night and do not get intoxicated beyond what you can handle. It is best to keep valuables back at home and keep your eyes open to local scams to enjoy your solo travelling to the most.